Mission Statement
From Concept to Completion, Collins Constructions streamlines the commercial design and renovation process. Delivering greater value and peace of mind to our clients through a laser focus on quality, transparency, efficiency and innovation.
We live by our values and are held accountable to them.
Our Why
What drives and motivates us is seeing our clients being heard and supported in the overwhelming design phase, throughout the construction process, and ultimately to an excellent outcome as a result of good communication, organisation and quality control.
Our How
Through great communication, problem-solving and innovation.
Our Vision
To create projects that are timeless, sustainable and innovative that will serve our clients for years to come. We are passionate about bringing excellent ideas to the table with our client's satisfaction being our ultimate goal.
Meet The Team
Great things in business are never done by just one person, but by a great team of people working towards the same goal. At Collins Construction our team strives for excellence in everything we do. Our team are leaders in their industry and, along with our network of trusted tradesmen and suppliers, all encapsulate the vision of Collins Constructions to add value, accountability, integrity and safety into their daily practices.
At Collins Constructions we invest highly in ensuring that all team members are continuing to refine and improve their skillset. Staff undertake all necessary educational training to understand and implement the latest technologies, to be their best and remain the best in their field.
We pride ourselves on our specialised in-house Carpenter team. Ensuring we have control over the majority of the site labour requirements mean better quality control, cleaner sites and better safety culture.
Business Dep Manager & Contracts Administration
Architect & Construction Estimator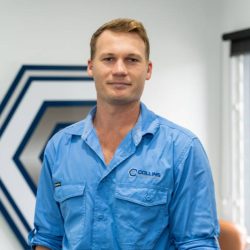 From The Director
Here's a little bit about me; I thrive off problem-solving,
I pride myself on always providing a return on investment. I take your investment not just as an investment into the project but into our company and our brand.
I have a keen industry eye; I enjoy seeing and unlocking the potential in existing structures. I love being in business, and I understand business.
I know that in commercial construction, when working with businesses, that they have key priorities when it comes to operations and safety. I also know and put a big emphasis on designing and constructing structures and features that are flexible. A building that works for now and which can be adapted long term, thinking two steps ahead always pays off.
As an extension of that, I prioritise functionality over vanity every single time. Our style is clean simple lines and aesthetically pleasing spaces, with a focus on durable fixtures and materials that are maintenance-free, for a sustainable building and design. We take a very holistic approach to our design, considering all factors and potentials.
I share this with you because my company is an extension of me, my values are infused into every process and I don't settle for anything less.
It is incredibly important for us to provide clarity to our clients. We don't expect you to have industry knowledge or to know exactly what you want, that's what we are here for. Our job is to lay it out and present all options, so that you can make the most informed decision with our support. Personally, I like to think that if I can't break it down and explain it to you in layman's terms, it means that I don't fully understand it.
We offer you design options that are actually buildable and work within your budget. We listen to what you want, while also providing scope and ideas for improvement, sustainability, cost-effectiveness and quality.
Concept to completion means that we don't send you on a run-around. We cover it all in house from colour palettes, selections, and architectural design that all tie together, for a seamless experience.
I believe that the bar is set far too low in the construction industry. For this reason, we are consistently developing new software and focusing on innovation within the company. Things can always be done better, and I am aiming for nothing short of the best. This is so important for cost and time efficiency, so that you're paying for value-added to your project, rather than administration and overheads.
Ultimately, throughout your experience with us, I want you to feel confident and heard; our methodology, processes, values, software and state of the art technology all facilitate that.

Director | Collins Constructions
Collins Construction is a proud Diamond Sponsor of the Cairns Business Women's Club. Since the 1980s, CBWC has worked in the community to empower, educate and celebrate the success of all women in business.
The Cairns Chamber of Commerce has been a mainstay of the Cairns business community since the late 1800s. As a key part of the Cairns region, Collins Construction is both a supporter and member of the local chamber.